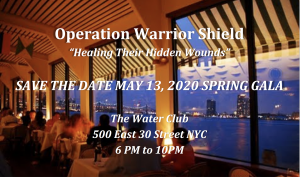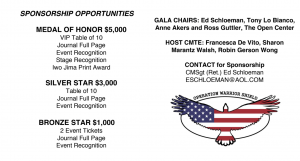 Operation Warrior Shield, Inc. provides comprehensive support programs for service members, veterans, first responders and their families that are focused on transition, health and wellness, employment, prevention of homelessness, peer engagement, and connections to community resources. The emphasis is to help heal their hidden wounds through:
Helping veterans find jobs
Eliminating veteran homelessness
Teaching Transcendental Meditation
VETWELL – "Community Based Holistic Wellness" program
Honorees:
DSNY Columbia Association
Eric Adams, Brooklyn Borough President
Rita Cosby & Marvin Scott, Veterans Broadcast Journalists
OTHER SPONSORSHIP OPPORTUNITIES
MEDAL OF HONOR $5,000
VIP Table of 10
Journal Full Page
Event Recognition
Stage Recognition
Iwo Jima Print Award
SILVER STAR $2,500
5 Event Tickets
Journal Full Page
Event Recognition
BRONZE STAR $1,000
2 Event Tickets
Journal Full Page
Event Recognition
Refund Policy: WE DON'T EXPECT OUR MAY 13 GALA TO BE POSTPONED BUT if this event is delayed due to COVID-19 (Corona Virus), we offer two options:
   *Please credit my purchase to the rescheduled Gala.  Date TBD.
   *Please consider my purchase a donation to Operation Warrior Shield
You may indicate your preference by email to eschloeman@aol.com.